Spring Staples
There is nothing smarter for your wardrobe than to invest in classic pieces - staples that you can wear over and over again for years to come. Yes, trends come and go, but when you have a timeless piece, you can pair it with any style at hand and still look fresh. Not to mention, it will save you a little cash.
For spring, I make sure I have certain pieces circulating in my closet. I have had a couple of these pieces for years and others I had to replace, because it was just too worn out to wear. I call it a bang for my buck.
I love my jean jackets a bit over-sized. It's great for the cooler spring days and a great layering piece for later seasons. And honestly, it's a jacket that you can wear with EVERYTHING. You can wear it with a dress, a skirt, chinos, and jeans. Yes, I said jeans. I give you permission to wear a Canadian tuxedo.
I LOVE patterns. And stripes has been a consistent pattern in my wardrobe. Nothing screams out "spring/summer" (other than floral print) like stripes! And I have been loving my tees/knits with simple details, just like this one. It has the word "romantic" imprinted on the left. How cute right?!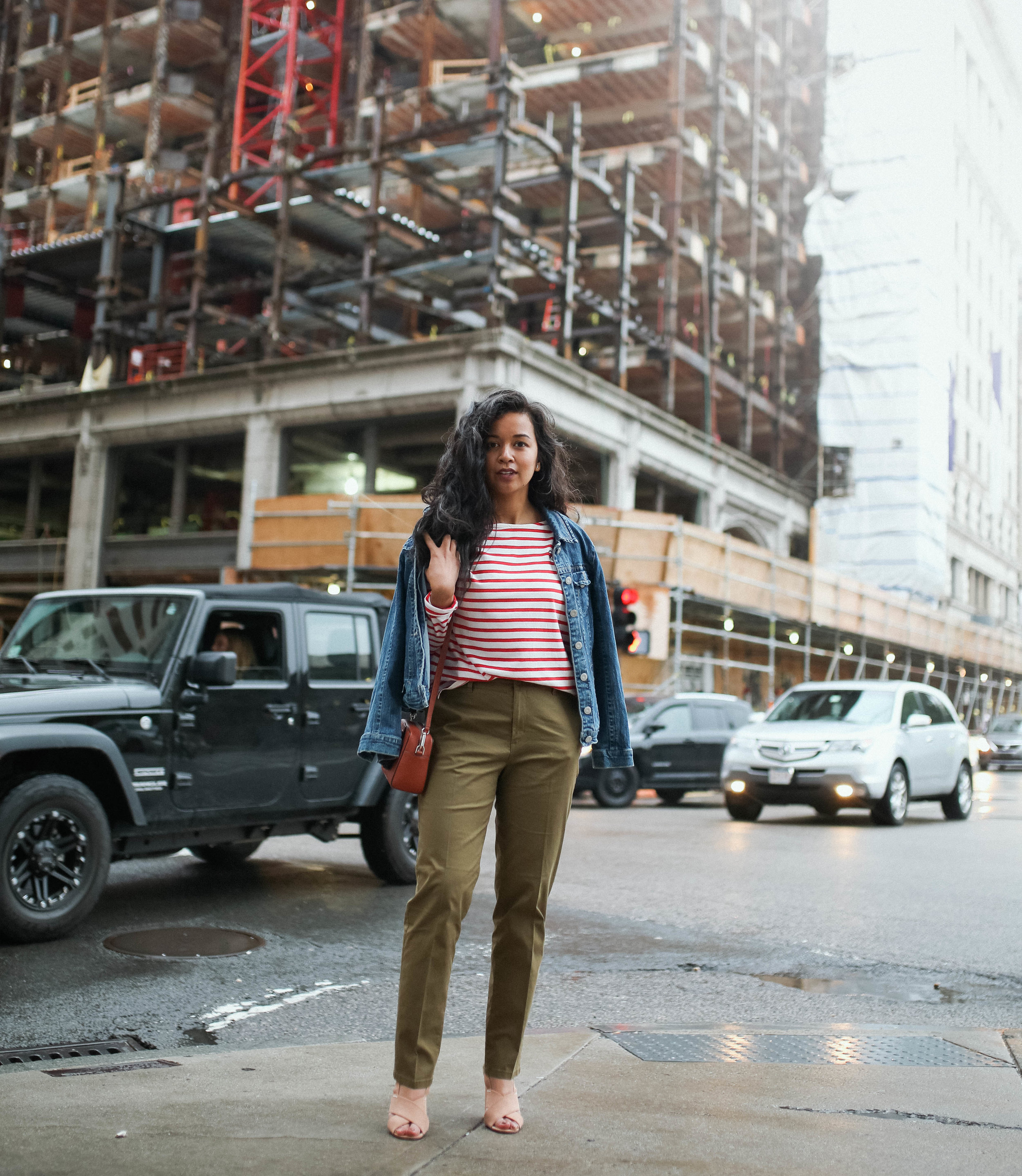 Chinos are great because the fabric is light enough for the warmer spring days. And there is something about chinos that, when you wear them, give you a clean look.
EVERY woman who cares should have a pair of nude heels. It goes with a lot of outfits. Also, nude heels always make your legs look longer. I'm not sure the science behind it, just take my word for it huh? And it regards of the length of my legs, I will take any help I can get.
I'm about the trends, when I like them. But I'm all about the classic timeless look for everything. It's wise to purchase staples, it's even wiser to invest in quality, simply because it will last longer. I'm not there yet, but when I make it, you are darn right I will be investing in quality designer pieces. :)
Jean Jacket (TjMaxx) old / Chinos (H&M)/ Stripe Knit (H&M) / Nude Heels (Target) Old
- mal